We Will Beat the Price of any Comparable Written Estimate!
Pool Fences & Gates
by Pool Guard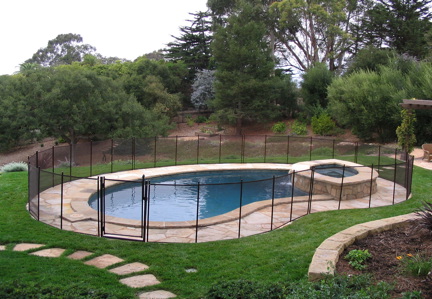 Every pool fence installed by Pool Guard includes a limited LIFETIME WARRANTY that provides protection against manufacturer defects on material, parts and installation. With over 20 years of experience and 85,000 pool fence installations nationwide, we guarantee you will get the best pool fence to protect your loved ones.
Pool Fencing Features:
SEE-THRU MESH: Pool Guard's premium interlock mesh is the strongest mesh manufactured in today's market and is rip-proof, mildew-proof, fade and shrink-proof. It is manufactured in the USA.
Our pool fencing mesh is manufactured with a post every 36″ for added strength. Custom sized sections are also available. Our pool fence has the first mesh ever manufactured solely for pool safety fence use. It comes in 6 colors and several combinations of colors to match your patio and pool décor. In addition, it offers excellent see-through visibility in all colors.
************************************************
QUAD-CORE POLES: Simply the strongest extruded poles and the safest ever.
Pool Guard's Pool Fence poles are engineered to provide maximum strength.
Poles are available in your choice of colors to match or contrast with your mesh.
SELF-CLOSING, SELF-LATCHING, KEY-LOCKABLE GATES: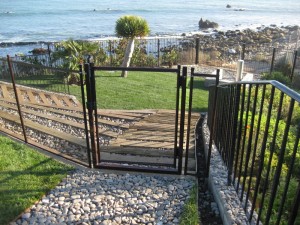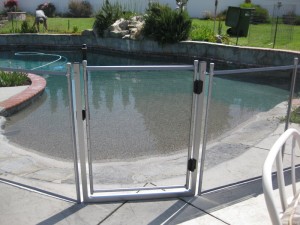 Can now be retrofitted to work with your existing fences!
We offer a convenient self-closing, self-latching gate which is key-lockable for added protection. Our professional pool fencing installers can place the gate anywhere you would like for easy access to the pool area.
************************************************
SLEEVES: Custom-designed, high impact, non-conductive sleeves pass the national electric code and will not corrode.
MATCHING DECK CAPS: To insert into the sleeves when the pool fencing is taken down. Caps are available in beige, white or gray.
CHILD-PROOF SAFETY LATCHES: Made of stainless steel so they will not rust or corrode and will last under any condition.
*********************************************
Pool Guard fencing is designed to provide you with the strongest materials and long-lasting protection with little or no maintenance.
Pool Guard fencing is professionally installed to follow pool contours, as well as patio and lawns.
Our products have removable sections so the fence can be partially removed in only a few minutes. However, we recommend pool fencing should never be taken down when children are present.
Call Bruce at 805-390-7914
Lic. # 956027
bruce.radford@gmail.com